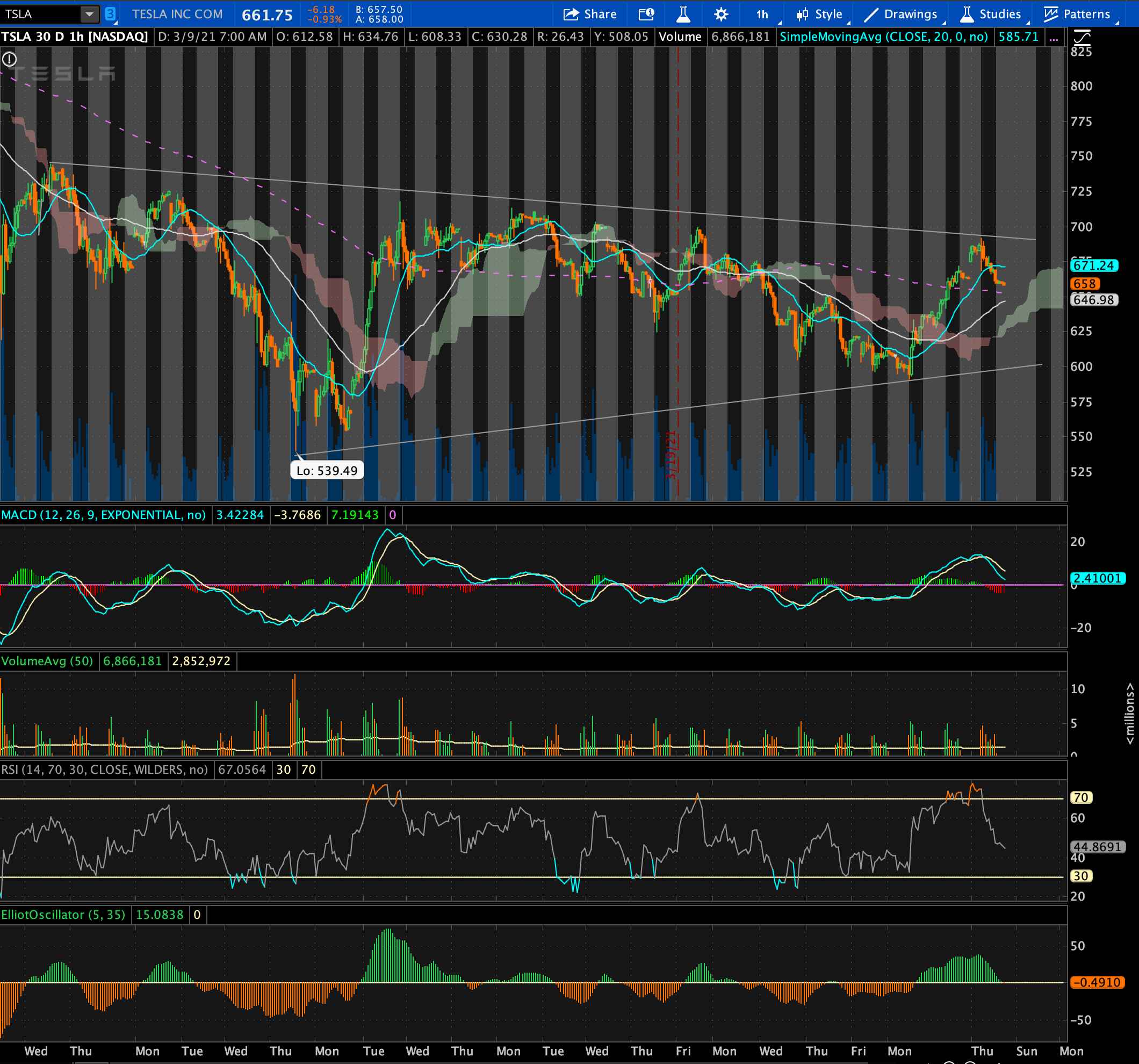 Whether you are watching Tesla (TSLA) or holding long at this point, you've noticed that the stock has tumbled from it's recent all-time high of $900.40. And at the end of January or beginning of February, things started to go bearish for the stock.
So, based on the current tumble and sideways performance of TSLA, how do we assess where the stock will actually go from here? I have to say that given its CEO's habt of blurting out random thoughts on social media, Elon Musk could be sabotaging his own company.
The Candlestick Chart
Looking at the 30 day chart (above), we see a sideways action, and I've marked off the top resistence points and the bottom support levels. And we see a wedge forming, which indicates that we will see a strong movement either up or down.

The Moving Averages are defined below:

200 Day Moving Average – dotted pink line
50 Day Moving Average – gray line
20 Day Moving Average – blue line

Recently, the 20 DMA just crossed above the 50 DMA, indicating an upwardly momentum. The 200 DMA is beginning to bottom out, indicating also that we could see some upwardly movement. We had a low of $539.49, and the stock has been trending slowly upward from there.
The RSI Indicator
The relative strength indicator (RSI) is quickly approaching the lowpoint of 30, indicating that we could see a downtrend in the short term, but as RSI of 30 indicates oversold territory, we could be going up from there. The lowest points are colored blue. The overbought points are colored orange.
MACD and ElliotOscillator
Both MACD and ElliotOscillator indicates a downtrend in the short-term, but looking at all the chart indicators and lower indicators, we could see a major uptrend, and a good buy point for getting into the TSLA or buying more shares. Or if you have been holding long, an indication or buy signal that will move the stock upward, and typically when TSLA moves upward it does so in huge movements as seen in past years.
Buy, Sell or Hold?
Tesla (TLSA) is at the cutting edge of EV (electric vehicle) technology. EVs are definitely the way of the future, as the United States and other 1st world countries are moving away from fossil fuels and to electric vehicles. President Biden wants the U.S. to move to all EVs by 2030. So, there is a LOT of momentum for EVs to be the way of the future, as we continue to experience pollution, climate change, etc.

Uber investor Cathie Wood predicts TSLA stock will hit 3k, and Jim Cramer thinks the stock will hit 1k this year.

Overall, the stock market has had a major market correction since mid-February, and the primary market indices having been rebounding upward again, as seen in the 30 day chart. Tech Stocks have been hit the hardest during this market correction, and Tesla is a company regarded as both a tech and electric automobile company, so thus, TSLA has been hit hard like any other Tech Stock.

Eventually, the stock will rebound, but no one can know for sure when. But, my technical analysis points to a rebound after Easter. We shall soon see…

TSLA is the second largest holding in the Western Sage Equity Fund, so there is a lot at stake in the coming weeks and months.
(Visited 15 times, 1 visits today)